Completed Project: Clean and Simple Elegance Defines This Transformation in Trailmark!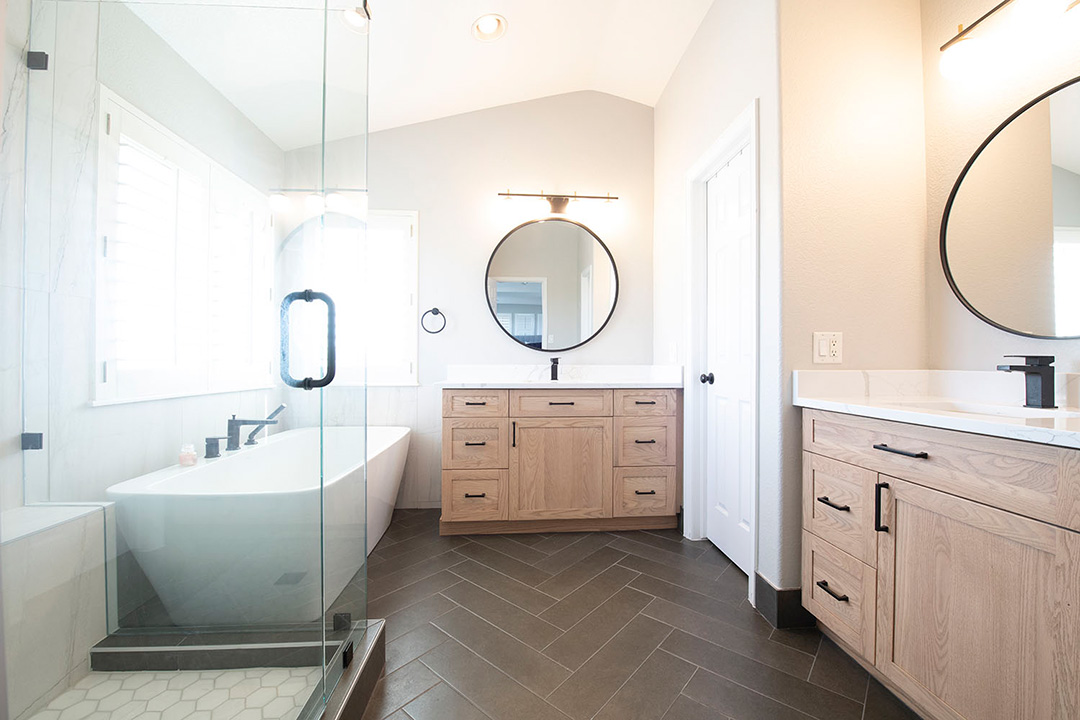 Categories
Primary Bathroom
Secondary Bathroom
Partial Kitchen
Designer
Martin Alvarez
Cabinets by Siteline
Plumbing by Delta
Countertops by MSI
Stunning Bathrooms, Partial Kitchen, and Fireplace Remodels in Littleton!
We loved working with Patricia and Mike on transforming two of the bathrooms in their home as well as a partial remodel in the kitchen and fireplace update!
Patricia and Mike own a beautiful home in the Trailmark subdivision near Chatfield. However, they wanted to update the current design and functionality of their kitchen by adding a large island with pendants so that their family could gather around and enjoy spending time together. In addition, they wanted to make the fireplace area look more inviting and timeless.
As part of this large remodel project, we were also going to redesign the primary bathroom as well as the main level bathroom.
In the primary bathroom, we were able to enlarge the shower area a bit and update the current design with an 'all glass' shower concept and freestanding tub as well as new vanities.
In the main level bathroom, we removed the existing tub and converted the space to a standing shower which would give guests a more luxurious showering experience.
In the kitchen, we removed the existing island and installed all new cabinets and countertops that matched the existing countertops but changed the color of the island to create some contrast. Then we replaced the old fireplace with a new box and all new stacked stone and a rustic mantle to create a warm inviting space to gather around the fire 🔥 on our chilly winter